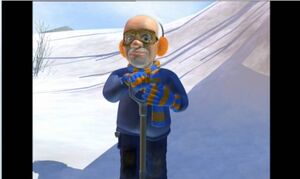 Mr Rails 
is the Underground's mechanic, carrying out odd jobs across the Underground when needed. He's in his sixties and has been working on International Underground for over 25 years.
Mr Rails is lovable, friendly, loyal and very practical. He's always tinkering about with things to make them work again, preferring to "mend than spend". No job is too big or small for him, whether fixing up trains or clearing the line of rubbish, he does it with a smile. From the Multi-Tooled Maintenance Machine to a set of windchimes, his creativity knows no bounds and always comes in handy. His motto has always been "Mr Rails never fails!"
Mr Rails wears a yellow safety jacket over a messy blue shirt and overalls. He wears steel toe-capped boots.
Appearances
Edit
Series 1 - Pop Decoy, Sir Clunkalot, Mr Rails Never Fails, Brooklyn and Rocky Two-Shoes (does not speak), Pulling Together, Caught Purple Handed, Ernie's Big Trip, Finders Keepers, The Magician's Assistant, Cover Story, Millie's Dream Day, Mr Movie Jones, Summer Breeze, Running Late, Light At The End Of The Tunnel, The Wreck Of Sea Shell Bay, Catnapped, Monster Mystery, Bon Appetit, A Change Is As Good As A Rest, Elementary, My Dear Bakerloo!, The Magic Lamp, How Great The Art, The Mayor's Visit, Techno Trouble, Snow Go